That's right, ladies and gentlemen, I have a piece in a real-life art gallery, here in Portland!
Close to our home in SE Portland, there's a little place called the
Sidestreet Gallery
. A fantastic gallery/kids shop/knicknack haven and light-up store, I've found myself drawn in the doors whenever I pass by.
Last night, they opened their September First Friday show last night, with a Day of the Dead theme. The artwork showcased is astounding: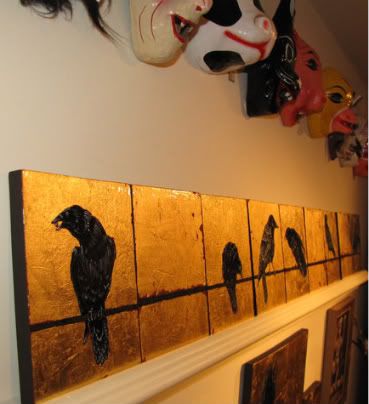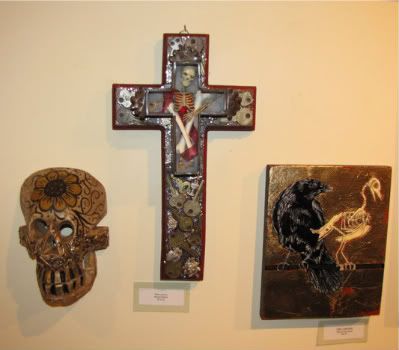 Folk art sculpture mixes with candle-holders and huge oil-on-canvas pieces, and skeleton brides frolic with dead mariachi players. Great, fun stuff.
And, there it is. On top of the dais in the center of the show, sits
In Memoriam
, a miniature Dia de los Muertos shrine complete with tiny roses, Virgen de Guadalupe prayer card and candles:
The base is a hardwood plaque, stained cherry and edged in gold acrylic. The center cross is laser-cut wood, also painted in gold acrylic, while the others are charms. The roses are silk and fabric, twined around the cross and encircling the miniature tapers: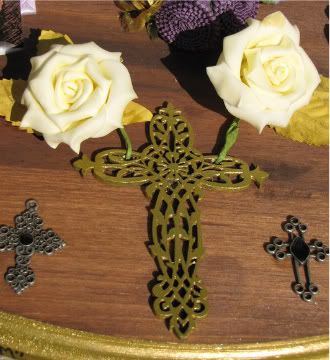 The prayer-card is a miniature print of
Virgen
, one of my favorite pieces, and the gold rose votives and white mini-tapers balance the piece out nicely:
It's the skull that is the main focus of the piece, however. A true-to-life cast of an infant skull, the model was painstakingly done up in purple, blue, green and gold in a floral
sugar skull
pattern.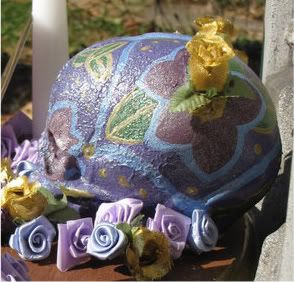 Here's what the piece looks like in its natural environment: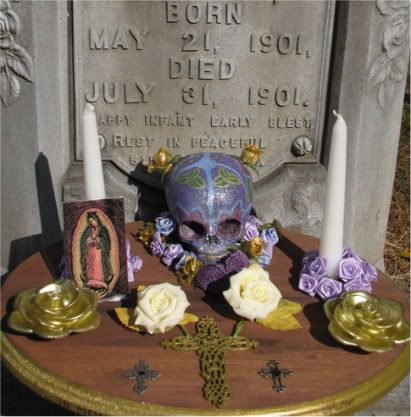 And yes, here's me standing proud over it:
Thanks for looking!