This month I created 4 pieces, one in my more traditional collage style, as I was asked to do a piece for a non-EBSQ show on modern motherhood, and then I used my daughter as a model for 3 altered photograph-style pieces in two other shows.
For the motherhood show, and created a mostly-abstract representational collage, entitled
Venus of Modernity
:
Here are two close-up detail images: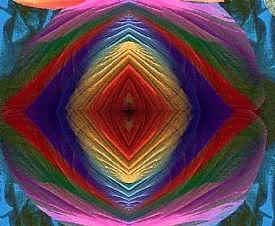 I tried to create something that had a very symmetrical feel (something I think is easy to see in the detail images, but that is also still a hard piece, showing how a woman's self moves inward after motherhood. I patterned her shape after the famous Venus of Willendorf statue, round and life-giving, not only to harken back to a time when mothers' bodies were appreciated and valued, but also to be frank an honest about the changes that
modern
motherhood especially, puts a woman through.
Two other pieces were for the EBSQ
Nursery Rhymes Show
. Both pieces involved careful planning of the photo, attention to light, dress choice, my daughter, and the other (sometimes not so cooperative, models).
First, there is
Sheep?
Two detail images here:
This piece required taking my little city girl 45 minutes outside of Portland to
Dolce Farm and Orchards
, where the family very nicely let us chase around their sheep, goats and chickens, amused at our obvious urban bent. I gifted them a copy of this print, and I hope they liked it.
The second nursery rhyme piece, featured my girl as Little Miss Muffet in
Beside Her

:
Detail images:
This was taken in the small fern-covered glen near our home, with my little model sitting on a decorative concrete bench. The spider was an ebay purchase, and was the perfect size, I think. A few touch ups and a watercolor filter to make it match the Bo-Peep above completed this piece.
Lastly, there was an EBSQ Flower-of-the-Month show featuring
Irises
. I entered my piece, also entitled
Irises
:
Detail images:
If you look very closely into the detail images of her eyes, you can see the iris flower reflected in her pupils, surrounded by her pretty brown irises. I love that piece, and only hand-feathered the edged a little bit with a smudge tool.